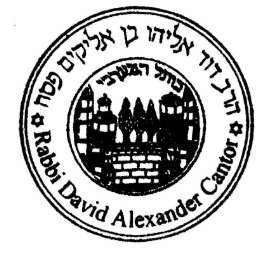 Rabbi David Cantor
Temple Beth Shalom 3635 Elm Ave Long Beach, CA 90807
direct line: (562) 726-4116
email: rabbi@tbslb.org
May 1, 2020
Dear Friends, Today is the twenty-second day of the Omer, and the forty-eighth day of Shelter in Place; while the former count ends in a festival on the fiftieth day (Shavu'ot), the latter's end – while still indeterminate – will most certainly be met with some sort of celebration.
---
This Weekend on Zoom
We have three opportunities to get together this weekend, over Zoom:
Friday, May 1, 6:00 PM – Zoom Kabbalat Shabbat  https://us02web.zoom.us/j/614244810 Meeting ID: 614 244 810
Password: 613+1 (669) 900 6833
Saturday, May 2, 8:30 PM – Zoom Havdalah   https://us02web.zoom.us/j/94072491746 Meeting ID: 940 7249 1746
Password: 613 +1 (669) 900 6833
Sunday, May 3, 10:00 AM – Sunday Morning Study  https://us02web.zoom.us/j/910501304 Meeting ID: 910 501 304
Password: 613 +1 (669) 900 6833  This Week's Topic: Biblical Public Relations (Midrash)
---
Looking Ahead to the High Holidays
From the Cantors Assembly, The Rabbinical Assembly, the North American Association of Synagogue Executives, and the United Synagogue of Conservative Judaism:  
Beginning next week, and continuing for the next several months, a task force made up of professionals and lay leadership from the CA, NAASE, RA, and USCJ will meet regularly, bringing together experts and stakeholders, and creating resources and best practices for our communities in preparation for the High Holy Day season. The project will include regular communication with all our members on upcoming webinars, articles, and other resources. We will be setting up a social platform designed to receive feedback and questions from all of you — our members, colleagues, and stakeholders — to be as inclusive and responsive as possible. We hope to engage in communal dialogue, and as we publish and post information, we hope you will share your creative ideas, practices, and resources. This will allow each of us to contribute learnings and best practices for our unique community.  
---
The Escape-Goat
This week (Acharei Mot-Kedoshim) we read about the ritual of Yom Kippur: for the propitiation and expiation of the people's sins, Aaron the High Priest is to offer two goats: one to be slaughtered and one to be set free in the wilderness (ez-azal, a "goat that goes away"). By means of the first goat our sins are forgiven – the goat receives the punishment; by means of the second our sins are forgotten – the goat disappears.
In order to move forward in life both are required when making peace with one-another: once the price has been paid, bringing up the past is often unhelpful. Our best path forward – if we are to work together – is to admit the error, fix the error, and then continue on together as if the error never happened.
---
Courage!
David
April 8, 2020
Friends,
I wish you a meaningful Passover experience. I often say that the Seder is special because all over the world people are sharing the same experience at the same time but in multiple locations – this year it is more true than ever, and not just the Seder and the Jews, but the sheltering in our homes until the Plague has passed over our doors.
There is no Kabbalat Zoom Shabbat this week: instead, there will be a Zoom Maggid tonight at 6:00, a Zoom Havdallah service with Cantor Sofer on Saturday night, starting at 8:30 PM, and a 10:00 AM Sunday Morning Study with Rabbi Cantor.
Please note that all TBS Zoom meetings now require a password – 613 – as a protection.
Be well, take courage, and have hope,
David
---
Zoom Maggid (Virtual Seder Celebration)
Meeting ID: 122 397 122
Password: 613
Dial in: (669) 900-6833
---
Zoom Havdallah with Temple Beth Shalom
Meeting ID: 697 248 548
Password: 613
Dial in: (669) 900-6833
---
Sunday Morning Study with Rabbi Cantor
Meeting ID: 910 501 304
Password: 613
Dial in: (669) 900-6833
---
April 3, 2020
Friends,
I hope you are doing well; thank you to everyone who has reached out to let me know when you – or someone you care about – hasn't been, and could use a call.
In this email you will find links to access our Zoom Kabbalat Service (Friday nights at 6:00 PM), a recording of Shabbat Morning Services, a recording of this week's Torah and Haftarah readings, Sunday morning (10:00 AM) class on how to lead a Seder, and a new support group being organized by Jewish Family and Child Services of Long Beach and West Orange County.
I conclude with some thoughts on this week's parasha.
David
---
Useful Links
Zoom Kabbalat Shabbat (6:00 PM Fridays): https://zoom.us/j/614244810 (By phone: 669 900 6833 Meeting ID 614 244 810)
Saturday Morning Service: Shacharit: https://zoom.us/rec/share/99EsNJKo8l5OfqP3-U3uAYsON6nJeaa8hiMW-_ZfzkxL0Ddgorc8HnCrJ-TcbPTI?startTime=1585334477000
Torah Reading: https://zoom.us/rec/share/yMd1L6rTrm5JHdbh1WOBBL4oM6a-aaa81CRN_fpczk-R7b7cQYXIvlSjQ_Zr5ycv?startTime=1585847622000
Haftarah Reading: https://zoom.us/rec/share/yMd1L6rTrm5JHdbh1WOBBL4oM6a-aaa81CRN_fpczk-R7b7cQYXIvlSjQ_Zr5ycv?startTime=1585848551000
Saturday Morning Service Conclusion: https://zoom.us/rec/share/99EsNJKo8l5OfqP3-U3uAYsON6nJeaa8hiMW-_ZfzkxL0Ddgorc8HnCrJ-TcbPTI?startTime=1585336779000
Sunday Morning Study with Rabbi Cantor (10:00 AM) : This week: How to Lead a Seder: https://zoom.us/j/91050130 (By phone 669 900 6833 Meeting ID 910 501 304)
---
Coping in the Time of COVID-19
A message from JFCS:
Are you having difficulty coping with so many changes? Mourning life as you knew it only weeks ago? Feeling isolated? Anxious? Unbelievably sad? Craving connection? You are not alone!
To help our community begin to cope with and heal from the emotional turmoil we are all experiencing during this unprecedented time in history, JFCS is offering a free weekly support group for you. Coping in the Time of COVID-19 will help you:
Learn new coping skills
Connect with others
Share ideas
Feel supported
Tuesdays from 11:30 am – 1:00 pm on Zoom, beginning on April 7
Facilitated by MSW intern Jennifer Coke
Jennifer Coke is a social work graduate student at California State University Northridge with over 7 years of experience helping individuals, families and communities achieve a greater quality of life. She has worked in both inpatient and outpatient settings with groups and individuals of all ages. Jennifer boasts an array of tools to empower others to maintain their overall emotional wellness during this time and is committed to applying her knowledge to support others in navigating these challenging times with the use of coping strategies, encouragement, and fellowship.
Group is limited to 10 people so sign up today!
We will start a waiting list for additional groups as needed.
---
Rights through Mitzvah – Commandedness
This week – Tzav "command!" – we are reminded that the Jewish people is ultimately a commanded group: we have obligations. The interesting thing about obligations in legal theory is that obligations create rights: my obligation not to murder creates a right for others not to be murdered. My obligation to honor my parents creates a right for my parents to be honored by me. In America we speak in terms of rights, and the interesting thing about rights is that in legal theory rights cannot exist in the absence of obligations. Thus the rights to life, liberty, and the pursuit of happiness cannot be meaningful in the absence of universal obligations not to behave in ways that interfere with another's exercise of those rights and freedoms. President Kennedy encouraged us once to think in terms of the obligations that create our rights: ask not what your country can do for you (rights), ask what you can do for your country (obligations). At this time of national emergency, where one person's health is dependent upon another person's self-isolation, it may be a time to start translating our rights into a statement of the obligations we owe each other, so that everyone can fully enjoy the rights these obligations create. May we all continue to thrive, to enjoy our lives, our liberty, our happiness by doing our part – staying at home – to preserve that right for our fellow Americans.
Shabbat Shalom,
David
---
March 27, 2020
Dear Friends:
Welcome to another week of sheltering in place for Shabbat. What is normal for my family – not traveling outside the home on Shabbat with the exception of walking to synagogue – has become a common experience for much of America. Who could have guessed that so many people would suddenly be Shabbat observant?
Below you will find several options for participating in the Jewish community from the comfort of your home. I hope that they will ease some of the angst many of us are feeling at this time of national restrictions. I look forward to the day when we can make Havdalah over this Shabbat-like experience, get out of our homes, and get together in joy.
---
Zoom Kabbalat Shabbat
This past Friday more than 20 members of Temple Beth Shalom gathered together – virtually – to participate in our first Zoom Kabbalat Shabbat. To join us this evening at 6pm, please follow the link below:
Zoom Kabbalat Shabbat
To call in over the telephone, dial 669 900 6833 and enter Meeting ID 614 244 810.

---
Saturday Morning Videos
---
Jew It At Home
Temple Beth Shalom has joined a consortium of Los Angeles and Long Beach synagogues to provide online opportunities for Jewish engagement (our contribution is my Sunday morning class). **
*******************************************Here is the link: Jew It At Home
---
That's all for this week.
Take courage and be of strong hope,
DAVID
March 24, 2020
Dear Friends:
My beloved posted to Facebook "Today is Tuesday" – it was her most-liked post of the day. As we continue to shelter in place, work from home, the interruption of our daily routine can be somewhat disorienting. Jewish Tradition provides for structure through daily prayer – morning, noon, and night – and the division of the week into holy and mundane. Whatever works for you, just remember, today is the third day of the Sabbath, on which the Levites would recite in the Holy Temple Psalm 82.
---
Prayer Services
This week I am learning how to live-stream from Zoom to YouTube and Facebook. Cantor Sofer and I have plans to prerecord a Shabbat morning service with a reading of the Torah that can be posted for private viewing at a time of your choice. I will have more information when I finish figuring it out.
At the very minimum, there will still be a Zoom Kabbalat Shabbat service on Friday at 6:00 PM, https://zoom.us/j/614244810. As always you have the option of participating from within your browser, downloading the Zoom application, or calling in to (669) 900-6833 and entering Meeting number 614 244 810.
If you would like assistance in figuring this "Zoom thing" out, I am more than happy to walk you through the process: just email me at rabbi@tbslb.org or call me at (562) 726-4116.
---
Prayer Books and Humashim
Even in this day and age of tablets, computers, and e-readers, there is still something comforting about using a real book for study and prayer. While I have prepared online versions of the prayers for our Zoom services, you may find yourself wanting to follow along in a siddur.
If you would like to borrow a copy of the prayerbook or a humash (the Torah and Haftarot) from the Temple for your own private use – on the promise to return it when all of this is over – please let me know and I can arrange for the exchange to happen: rabbi@tbslb.org or (562) 726-4116.
---
Using Zoom
As may have become apparent, I have found Zoom to be a useful tool, and I believe it can also be useful for you too. To sign up for a free Zoom account, go to https://www.zoom.us. From there you can set yourself up to make virtual visits with anyone who has access to a computer or a telephone.
If you would like any assistance in using Zoom, please do not hesitate to ask someone who seems likely to know how it works: I am available for Zoom tutoring, just contact me at rabbi@tbslb.org or (562) 726-4116.
In addition, if you want to make a virtual visit to the Temple to see who might be there, you are welcome to join my personal Zoom meeting by going to https://www.zoom.us/join and entering meeting number 562-726-4116. I cannot promise that I – or anyone else – will be there. But if you are feeling lonely, give me a heads up and – if I am available – I can meet you there.
Take courage and be strong,
DAVID
March 22, 2020
Community Assistance
Dear Friends,
I trust you are well. Thank you to those who have reached out to me to give me an update: in working my way through the membership list, contacting anyone I haven't yet heard from, I am currently up to the "I"s.
---
Errands
A number of people, including the Men's Club, have offered their services should anyone be shut in and need an errand run or a delivery. If you would like to take them up on their offer, please contact me, at 562-726-4116, or Samuel Friedman (Men's Club president) at 608-215-6322 or buws27@gmail.com.
All requests will be held in strict confidence to the full extent possible should you wish to maintain your anonymity.
---
Kosher Food
A number of Kosher vendors are now willing to make deliveries to Long Beach: please contact Sam Friedman (608-215-6322 or buws27@gmail.com) for more information.
Nina Ayzenberg is interested in organizing a delivery from Western Kosher. If anybody needs anything from there, they can call her or send an email or text (714.642.2422 or Ayznina@yahoo.com. She will bring the ordered stuff to your home.

---
From Jacob Kraus
Hi everyone. My name is Jacob Kraus. I'm a 16 year old who has been involved in Torah school and had a bar mitzvah at TBS. In the midst of COVID-19, I have created a platform called COVID Connections (covidconnections.com) where I'm making a network of able volunteers in the LA/LB area and matching with those in need of help getting out for necessities. The website allows people who can volunteer to sign up and allows those who need help to make a request. When someone requests help, they will be connected to a nearby volunteer who has already signed up to help them. I am currently trying to inform the community about this valuable resource. Please share if you know someone who could utilize this or please consider getting involved if you're interested. Thank you!
---
Financial Assistance
If you are a resident of Los Angeles or Ventura counties, you may be eligible for an emergency loan from the Jewish Free Loan Association (https://www.jfla.org/). From their website: Has your business or income been impacted by the Coronavirus outbreak? Do you need to pay for childcare so you can get to work while schools are closed? Do you have other expenses you didn't anticipate? Jewish Free Loan is here to help with a no-fee and interest-free loan to cover:
Small business losses.
Lost wages because you can't go in to work.
Child care costs when schools are closed.
Funds lost due to cancelled travel plans and more.
Loans can be turned around in a matter of days. Please share this information with anyone who may need assistance. To apply please fill out our pre-loan application today!
---
Preparing for Passover
Looking ahead to next month, I have the following resources to offer regarding Passover:
If you are planning to have a Seder in your home, and do not yet own a Seder plate, an anonymous donor has offered to supply Seder plates for those who are in need and cannot otherwise afford one. Please contact me for more information – all information will be kept in strict confidentiality to the extent possible should you wish to protect your anonymity.
If you are planning to have a Seder in your home, and have never led a Seder before (or are open to getting a little bit of guidance), I will be scheduling a class over Zoom to help walk you through the process and prepare you as much as possible. Please contact me (rabbi@tbslb.org) if you are interested in attending this class or have other Seder-related questions.
In addition, I am exploring the option of holding a "Virtual Seder" over Zoom. This Seder-experience would likely be scheduled before the holiday begins and be limited to the liturgical parts of the Seder, with the understanding that participants would continue on to their meals in their homes after the "Virtual Seder" has ended.
---
Thank you for all of the wonderful suggestions I have received regarding ways to get us all through this "experience" together. I hope you will be able to join us for the Zoom Kabbalat Service tomorrow night.
Courage and be well,
David
---
Update from Rabbi Cantor
Dear Friends,
I hope this finds you well, in good health, enjoying a stable income, and managing well with any Corona virus-induced anxiety.
---
Well Calls
Beginning today, I will be endeavoring to give a phone call to every family unit within the Temple Beth Shalom community, to inquire as to how you are getting by at this time of national stress and inconvenience. If you would like to call or text me first to let me know how you are doing, my direct line is (562) 726-4116.
---
CDC Guidance
Here is a link to some guidance from the Centers for Disease Control:
https://www.cdc.gov/coronavirus/2019-ncov/community/home/index.html

In the Book of Leviticus (Chapters 13 & 14), the rules for containing contagion are as follows: When a person is affected by tzara'at, it is reported to the priest. The priest examines the person, and if they are found to be afflicted, the person is isolated for seven days, after which the priest goes outside the camp to check in on how the person is doing.

There is a contagion in the form of COVID-19, and like our forebears we are being called upon to do what is best for our community: self-segregation of those who are most at risk, and the limitation of social contact to minimize the spread of the disease. But "social distancing" should not be confused with social isolation. Now, more than ever, we truly need to be in contact with each other. Almost everyone has a telephone. Zoom has free accounts for personal use. Facebook and Skype allow for us to see each other. While the tzara'at-sufferer was placed outside the camp, he or she was not left alone, and neither should we allow ourselves to be isolated when practicing preventative social distancing.
---
Classes
This morning I was introduced to the wonder that is Zoom, created an account, and was instructed in how best to utilize the platform to deliver a learning experience. As a result, I have uncancelled my Sunday morning class, and will be offering it over the internet. Here is the information, should you with to join me:
David Cantor is inviting you to a scheduled Zoom meeting.
Topic: Torah Study with Rabbi Cantor – Let's build a city, and a tower with its top in the sky.
Time: Mar 22, 2020 10:00 AM Pacific Time (US and Canada)
Join Zoom Meeting
https://zoom.us/j/270931368
Meeting ID: 270 931 368
One tap mobile
,,270931368# US Toll
Dial by your location
US Toll

Meeting ID: 270 931 368
Find your local number: https://zoom.us/u/acCZmnUAV0
---
These are trying times, but together we can make the most of them.
Courage.
David