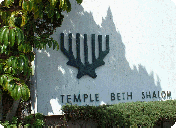 Temple Beth Shalom is a warm, welcoming, participatory synagogue, which places great emphasis on the practice of hospitality. Founded over 60 years ago, we pride ourselves on maintaining the traditions of our ancestors, while adapting the teachings of the Torah to the situations of today. We are affiliated with the United Synagogue of Conservative Judaism, the association of Conservative congregations in North America.
We welcome intermarried couples, LGBT individuals and families, as well as those who are considering associating with the Jewish community.  Guests in the wider community are welcome to join us for worship, our fantastic musical Shabbat services, study, social action, Sabbaths, and festivals activities that we hold throughout the year.
Explore all that's happening at Temple Beth Shalom and our local Jewish community with our monthly Temple newsletter – The Scribe and our weekly E-Scribe highlighting events and services each week.  For much more information about everything that is happening here at Temple Beth Shalom, be sure to sign-up on our email list by clicking the button… Sign-Up Now!
Temple Beth Shalom | 3635 Elm Ave, Long Beach, CA 90807 | 562-426-6413